This article is reprinted from CBS Philly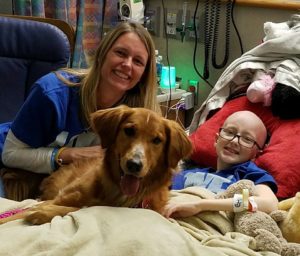 PHILADELPHIA – A young patient at the Children's Hospital of Philadelphia recently received a special visit from the four-legged star of a recent movie.
Brooke Mulford is too sick to go to the movies, so when word spread on Facebook about her wish to see the movie, "A Dog's Purpose," a mission began that would make a dream come true.
Twelve-year-old Brooke has always loved animals. In fact, she's surrounded by colorful stuffed animals in her hospital bed.
"All the ones I have right here, down with me, are my favorites," she said, adding that only so many of them can fit in her arms.
Brooke has been battling neuroblastoma for eight years but the treatments have stopped working and the cancer has spread.
Even though she's sick and in pain, Brooke is feeling energized after getting a visit from Bailey, the star of "A Dog's Purpose."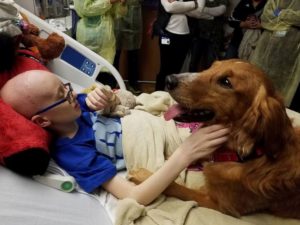 "He was very sweet, handsome, really handsome dog," said Brooke, who loved that Bailey even laid in bed with her. "It was super sweet."
After word got out on Facebook that Brooke wanted to see the movie, friends and strangers arranged for a private screening in her room.
"It was the best I've seen her in months, and just to see her so happy, just so talkative and happy, it just did my heart really good just to see her like that," said Brooke's mother Amy.
And that private screening came with a visit from the four-legged star, Bailey.
"Everybody coming together to even make this happen was just incredible," said Amy.
The family has photos of Bailey, the movie star, who flew in from California for this special visit. Brooke also has her own Bailey at home who is her beloved golden retriever.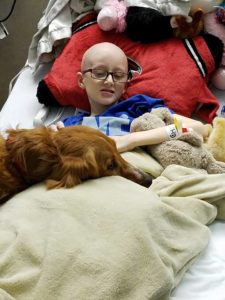 "She's a sweet thing, she likes food, she loves to be pet and loves attention, and she loves to play," says Brooke about her Bailey.
Along with the movie and Bailey's visit, Brooke received a signed copy of the book that the movie is based on. It also came with a note from the author of the book, W. Bruce Cameron.
His handwritten note said, "For Brooke: I wrote this story because I believe love is eternal and that we all go on to meet again."
"A comforting thought to know that somebody will be reunited in heaven and maybe not reincarnated here on earth but reunited in heaven," said Amy.
The Alex Scott Lemonade Stand Foundation has been especially helpful and important to Brooke.
The foundation has funded some of the research treatment for Brooke and special outings for the little girl and has provided incredible emotional support.